Are camera bumps becoming a symbol of photography prowess?
22
This article may contain personal views and opinion from the author.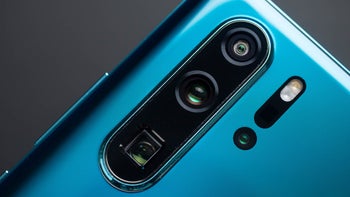 Camera bumps on smartphones are a common subject for discussions among tech enthusiasts. As phones became slim and sleek, camera assemblies started protruding from the backs of devices in various shapes and forms. And while initially it was thought that this design flaw will be something manufacturers will be able to iron out in a generation or two, the reality turned out to be quite different.
Оf course, there are phones that don't have camera bumps and we'll talk about them as well, but overall, they're a design element that's prominent on almost all smartphones these days. So why is that? Is it really so hard to squeeze that last millimeter of the camera within the body of the phone? Maybe. But maybe there's more to camera bumps than we think.
Cameras: the horns smartphones smash against each other
As system chips reached a level where upgrades are hardly distinguishable by the user, smartphone makers started focusing on something more tangible: cameras. These days, camera performance can make or break a smartphone, as it was proved by the
Pixel 3a
(when it comes to making it) and countless flagships that remain in the shadows because of their sub-par photo image quality.
During announcements of new phones, significant parts of the presentations are focused on cameras. Slides and videos highlighting the different sensors, shooting modes, AI and video recording capabilities are abundant and made to look as impressive as possible.
But most people don't tune in to watch the launch of their future phone or care enough to even check the device's official webpage. So, how can manufacturers keep sending the message that their phone has a superior camera performance long after the release of their phone? One way is through ongoing marketing campaigns that feature TV ads, billboards and even Tweets from movie stars. That's not only expensive but not feasible for all models, all the time, and in every market. Which is why manufacturers have taken a more direct and somewhat primitive approach: designing the camera modules to make a statement themselves.
Camera bumps, why even have them?
Despite phone manufacturers being able to shrink down cameras to minuscule proportions with amazing capabilities, there are still some constraints they have to adhere to. How camera optics work is not the focus of this article so won't bore you with the details, but the gist of it is that there's a certain length (or thickness depending on how you look at it) the camera needs in order to provide a respectable image quality. And as other hardware components shrunk and smartphones became slimmer, manufacturers had no choice but to let the cameras stick out from the body of the phone, creating what we call a camera bump.
While camera bumps aren't usually aesthetically pleasing and some stick out even when the phone has a case on, phone makers try to design them to be extra durable by reinforcing them with a metal lining or using sapphire glass over the lenses for extra scratch resistance.
Of course, not all phones have a camera bump. One way it can be avoided is by increasing the overall thickness of the phone. This also allows for a bigger battery and other components to be included, so there's no definitive right or wrong solution. Some users don't mind the additional weight if it means longer battery life and cleaner-looking design.
When it comes to photography, size matters
We've all been in a situation where you're on a trip taking a picture with your smartphone while the person next to you whips out a DSLR camera with a lens bigger than your forearm and starts machine-gunning everything in sight. That person might be a pro or might have just bought that equipment yesterday and doing everything wrong, but internally, you're impressed nevertheless.
With smartphones, the hardware differences aren't that drastic yet, but they do exist and I think they matter more than people realize.
Let's take for example the Huawei P30 Pro and the Oppo
Reno 10x Zoom
. Both have a three-camera setup with one of the cameras being a periscope one. However, while the Oppo has its cameras flush with the back panel with only a change in texture noticeable when you slide your finger over them, on the Huawei, there is a massive camera bump in a color that contrasts with the rest of the back panel. So, we decided to have a small experiment.
We took both phones and showed them (hiding any branding) to people in our office building that are not part of the PhoneArena team. We asked them to tell us, based purely on what they see, which one they think has the better camera. The vast majority pointed towards the P30 Pro with one participant saying "
This one looks uglier so it's probably the better one.
" in reference to Huawei's flagship.
And as the battle for market share is getting fiercer, manufacturers are right to further highlight camera bumps as an additional and easy-to-read sign that they have the superior camera customers want. The opinion from above about the P30 Pro's ugly bump is not wrong either, it's very likely that companies are deliberately making camera bumps rougher looking and not as sleek as the rest of the phone, to give a "professional" vibe to their camera setup.
Time to emphasize the hardware
We have two very fresh examples of this trend and they're coming from some of the biggest players in the game.
Google, which loved boasting about the greatness it achieved with the single camera of its Pixel phones, is going full-on camera island for the Pixel 4. The design Google itself
teased on Twitter
shows a camera bump with two lenses and an undisclosed sensor but enough real estate for at least another camera. This is a massive change from all previous Pixel models and it shows that Google is shifting to a higher gear when it comes to camera performance. We're not sure what the company will deliver, but the excitement is already high.
With iPhones multiple generations back running the latest iOS as fluidly as the latest models, cameras have become one of the biggest differentiators between models. And while the
iPhone XS
has a noticeable but still somewhat discreet camera bump, with the
iPhone 11
, Apple is making a big sacrifice in the looks department to emphasize the new and improved camera capabilities. Тhe new iPhone will have the most prominent camera bump of all and by a large margin. That is, again, if the leaks are true.



How far will manufacturers go before they move to something else to compete for? Can we see the return of the telescopic lenses popping up from the back of phones? Or will everything remain hidden in the body and eventually we'll see camera bumps disappear once and for all? As much as we want to see how good smartphone cameras can get, we're definitely not looking forward to even uglier camera bumps. But as the saying goes: this too shall pass.