This ridiculous $350,000 Apple Watch knockoff doesn't even show the time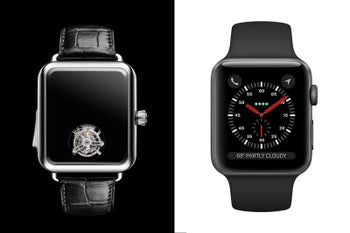 To say that the
Apple Watch
has been disruptive to the traditional wristwatch market would be an understatement. Over the years since the first model launched, we've seen numerous interesting reactions from traditional watch makers, mainly from Switzerland – the Rolex motherland. Not that there's anything surprising, considering how suddenly Apple became the top-selling watch brand in the world.
The latest entry in a series of crazy offerings is the Swiss Alp Watch Concept Black by H. Moser – a time piece that's as ridiculous as it is expensive. You thought the Apple Watch Series 4 was pricy at $399? Well, the Swiss Alp Watch costs $350,000.
Yet, despite the discrepancy in pricing, the Apple Watch and the Swiss Alp Watch are quite similar in appearance. They have the same rectangular form factor with rounded corners and a metal frame encasing a glass screen. Only the Alp Watch doesn't actually have a display, because its mechanical. It doesn't have a dial either, because it doesn't need one – it has no numbers and no hands to point at them.
It does look cool, though
Instead of looking at this ultra-expensive H. Moser watch, you're supposed to listen to it. That's right this timepiece conveys time with sound. To do so, you're supposed to sound a minute repeater whose chimes will tell you if you're running late,
according to
Engadget
. Whoa.
According to its creators, the Swiss Alp Watch Concept Black is supposed to be "an attempt to go back to the roots of watchmaking. This brings the watch to its rightful place as a timekeeper rather than a time-wasting 'smart' device displaying notifications." That's, uh, quite the statement about a watch that doesn't outright tell you what time it is.
And what about adjusting the time? No, it doesn't get the right time beamed to it from space. Instead it offers a minimalist solution to the (decidedly simple) problem, as you'd expect from a watch that doesn't show you the time:
"Even the time setting system is discreet with adjustments made via the crown. A marking engraved on the crown allows the time to be corrected using a graduation, which only appears when the crown is pulled out, with twelve indices each representing five minutes. A subtle system that respects the minimalist spirit of the model,"
reads the official statement from
H. Moser & Cie
.
It's a unique method of adjusting the time on a unique watch, that's for sure.