As Apple gets set to unveil new iPhone models, shares hit an all-time high
9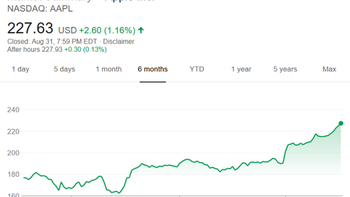 It was quite an eventful month of August for Apple in terms of its shares. On August 2nd, the tech giant became
the first U.S. public company to earn a valuation of one trillion dollars
. Some expected Apple to roll over and play dead after hitting the magic figure, but that wasn't the case at all. Since making history, Apple's shares rose another 10% to finish the month of August at $227.63 for a valuation of close to $1.1 trillion. An all time high of $228.87 was hit on Friday, the last day of the month.
Some traders have been buying the stock
in anticipation of Apple's September 12th new product event
being held at the Steve Jobs Theater. Typically, the shares rise in anticipation of the introduction of the latest iPhone models. Nimble traders then sell their shares or call options as soon as the new phones are announced, scoring a quick profit. That's known as buying the rumor and selling the news. But that's not the play that famed long-term investor Warren Buffet has in mind.