Android 'Fast Share' is Google's answer to Apple's AirDrop
22
Android Beam was Google's attempt at delivering a seamless local sharing feature on Android devices, in the vein of Apple's AirDrop. Introduced in 2011, Android Beam is an NFC-based system that allows for short-range exchange of data between devices, and with the release of Android Q, it is going away.
To replace Beam, Google is launching Android 'Fast Share' – a new service that has the same core concept—that is, allowing users to locally share files, text, links, and other data between each other—but uses Bluetooth and peer-to-peer Wi-Fi, instead of NFC.
As spotted by
9to5Mac
, the new service is similar to the sharing hub currently available in the Files by Google app. Fast Share is getting integrated into the Android system share sheet and can also be accessed by going to
Settings > Google > Fast Share.
As indicated in the
screenshots (seen below), Google's new sharing method is designed to work between Android devices, Chromebooks, iPhones, and smartwatches.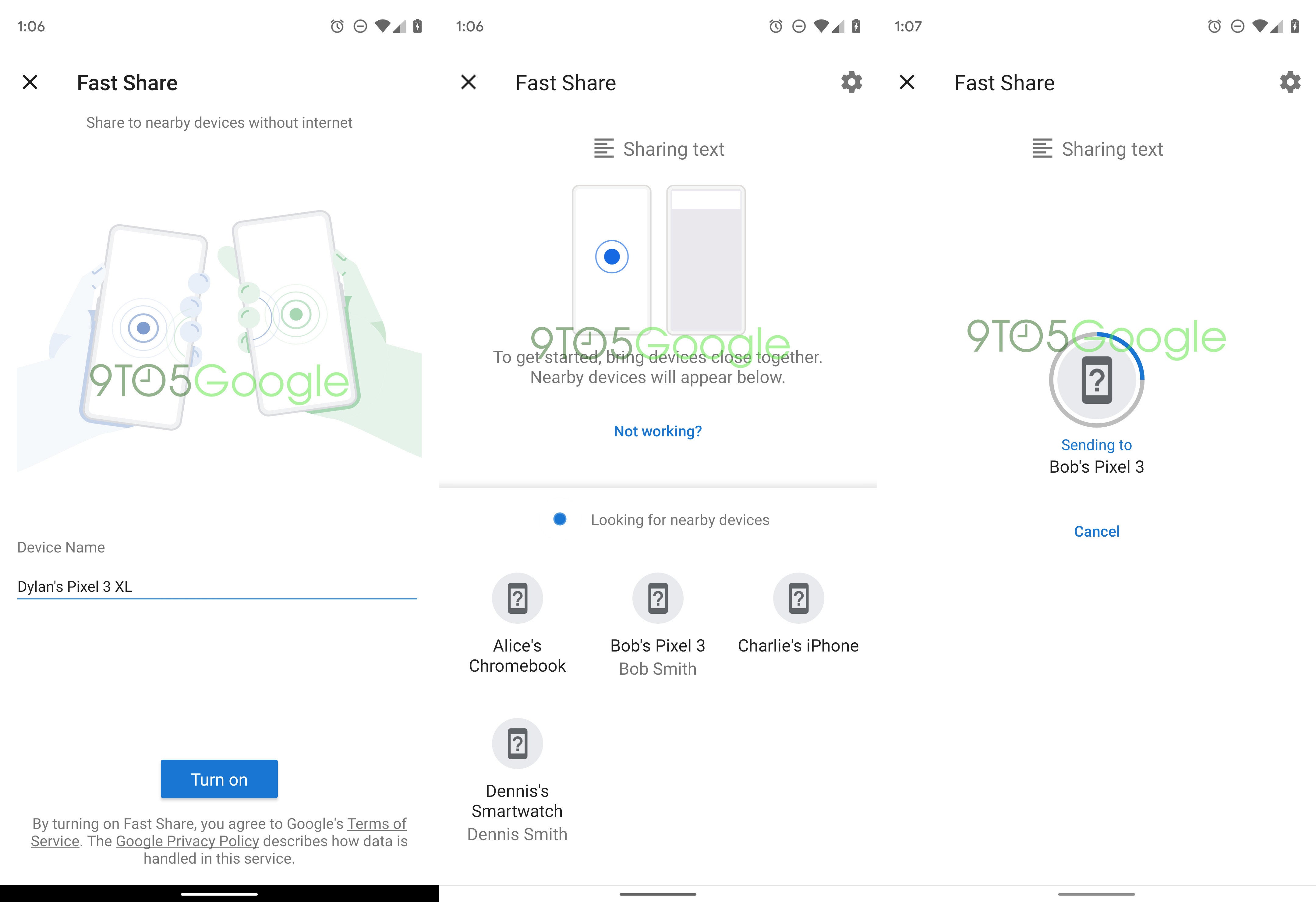 Android Fast Share is meant to allow for short-range sharing between devices that are not connected to the Internet, so it requires the Bluetooth and Location services to be enabled on both ends. Sharing files is simple – you enter a name for your device, turn on Fast Share, and you see a list of devices available nearby. To send something, simply tap on a device; the recipient will see a prompt to accept or decline the transfer—much like when sharing with Bluetooth—and that's it.
There's also the option to give "Preferred Visibility" status to people that you're frequently connecting to with Fast Share. This allows them to see your device when it's nearby, even if you're not currently using the service.
Fast Share is rumored to be launching alongside Android Q, but it may not be limited to the latest version of Google's mobile operating system. It is believed to be a Google Play Services, so we may see Fast Share going live on older devices as well.
Recommended Stories