Zune Music Marketplace Canada seems to be imminent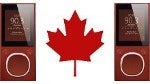 It's looking like Windows Phone 7 might get a feature boost in Canada pretty soon, because users are reporting that purchasing and downloading music from the Marketplace has been working on desktops in the Great White North. The rumors about the Zune music Marketplace hitting Canada had ramped up in the last couple days, but this is the first indication that the release may be just around the corner.
It seems that late last night, Zunited writer Josh Martin was able to successfully purchase and download a song from the Zune Marketplace in Canada. Normally, there would have been an error message of something to the effect of "not available in this region", but this time the purchase went through without a problem. Unfortunately, a lot of the browsing UI still isn't there, but the purchase itself seems like proof that the music Marketplace will be headed to Canada sometime soon.
This all could be one big bug, and the Zune music Marketplace will still be avoiding Canada, but if it does turn out to be true, it'll be a boon to smartphone users in Canada who currently only have the iTunes as an integrated music solution. With some luck, this could help spur Windows Phone sales in Canada, since Android still doesn't have an integrated music store, and the unofficial solution (Amazon MP3) isn't available in Canada.
source:
Zunited