ZeroLemon's battery cases and battery pack will keep you going when there's no outlet around
1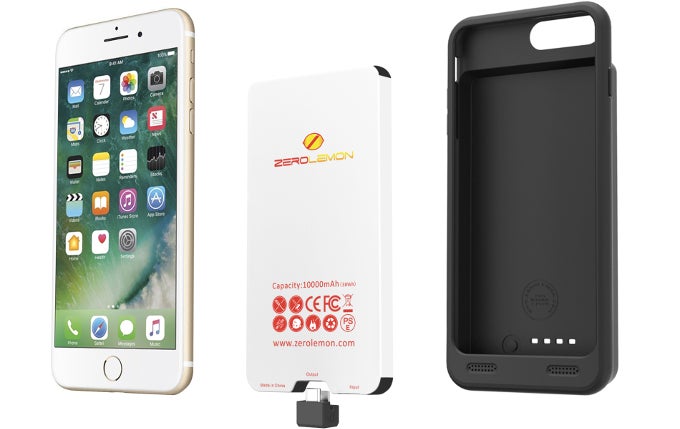 This story is sponsored by ZeroLemon. PhoneArena's opinions in this article have not been affected in any way!

What do you do when you are out and about, away from an outlet for an undetermined amount of time? Especially if you happen to need your screen on for long periods — like using Maps for navigation, for example. Well, you've got two choices — either grab an external power bank, or go the 2-in-1 way with a battery case, which both protects your phone from bumps and drops, and keeps it charged up for longer.
Manufacturer ZeroLemon specializes in portable charging solutions and has been doing so for the past 5 years. The company has battery cases with massive cells available for a number of the most popular handsets out there. It has recently added models for the
Moto Z
,
OnePlus 3
and
3T
,
Google Pixel
and
Pixel XL
, and
iPhone 7 Plus
to its roster. Let's take a closer look!
The cases are pretty similar in design — TPU cases with a pronounced lip to protect the device's screen, and a massive trunk to hold a pretty big battery. How big? Well, the Moto Z and
OnePlus 3
/ 3T models have a 7,500 mAh cell, and the Pixel and
Pixel XL
cases have 6,500 mAh and 8,500 mAh cells, each effectively adding more than a charge and a half to its respective phone. The
iPhone 7 Plus
case has a massive 10,000 mAh cell, making for more than two extra full charges — now, that's battery for days! All of the cases are available, except for the
iPhone 7
Plus one, which will be up for sale on the 2nd of June. Each one of them currently costs $59.99 and can be bought either from Amazon or directly from ZeroLemon (links below).
Sharing is caring, especially when you have such a big battery tucked away in your case. That's why the Moto Z and OnePlus 3 / 3T — you can charge an extra device alongside your own phone.


The company also has a battery pack for the hikers and campers in the works — the ZeroLemon SolarJuice. It has just been successfully funded on IndieGoGo and will be shipping in July. The pack has a humongous 26,800 mAh cell, three ports that can output charge simultaneously, an IP 65 rating for dust- and water-resistance, a LED light, and a solar panel, which allows you to get some juice in emergency situations. Do keep in mind that the charging rate on a bright, sunny day is about 200 mA per hour, so it's not a feature that you can autonomously count on while out tenting for weeks. Charging the battery to 100% via a power outlet takes between 14 and 18 hours. The SolarJuice pack will set you back $69 if you get the early-bird perk through IndieGoGo now.

For more details and purchasing information, follow the links below.