ZTE's US-bound Grand X 3 combines an affordable price tag with LTE and USB Type-C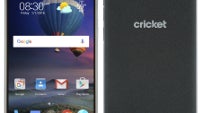 One of the fairly popular China-based phone slingers, ZTE, released its US-centric device lineup last year - its Axon family of phones showed us that ZTE is both able and willing to compete on the vast American market, where it is still one of the newcomers.
It looks like ZTE is poised to continue its local onslaught by announcing a new entry-level offering that will be sold in the States. The ZTE Grand X 3 will be launched as a Cricket Wireless-exclusive in the US and convey the rather enticing price tag of $129.99.
"
Today we are continuing our mission to deliver affordable premium smartphones with the Grand X 3. Our users are now 20 million strong in the U.S. and ZTE phones provide the affordable connectivity that empowers users, encourages individually, and opens a world of possibilities,"
— Lixin Cheng, chairman and CEO of ZTE USA.
But what does the Grand X 3 offer in return for your hard-earned money? Specs-wise, it's a run-of-the-mill device — we have a 5.5" 720p display up front, a 1.3GHz Snapdragon 210 chipset, 2GB of RAM, 16GB of on-board storage, a microSD card slot, an 8MP rear snapper / 2MP front-facing one, a large 3,000mAh battery, and Android 5.1 out of the box. Still, if you look at these specs from the prism of the 129.99-dollar price tag, it becomes evident that the handset might turn out to be a rather enticing device, especially for those on the market for a big budget phone.
What sweetens the deal even more is the ZTE Grand X 3's support for LTE connectivity - the handset supports bands 2,4,5, and 12, and although this means that it is technically compatible with the LTE networks of Verizon, AT&T, T-Mobile, and US Cellular, you will only be able to use it on Cricket's one.
Sadly, we have no release time window, except for ZTE claiming that the phone will be launched "soon". Well, we can only hope that this happens sooner than later. By the way, what do you think of the Grand X 3?
source: ZTE