ZTE Warp hands-on
9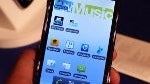 Prepaid Android smartphones don't necessarily have to be boring or tasteless, well, that's unless they're aiming for the very low-end market. Fortunately for those who happen to be on
Boost Mobile
, they'll have the pristine opportunity of checking out a decent looker in the
ZTE Warp
– an Android 2.3 Gingerbread smartphone priced temptingly at
$199.99
no-contract.
After beholding its no-contract price, we have to admit that we're digging its looks mainly because its exudes some of the qualities we tend to see with higher-end models. Specifically, it features a sizable
4.3" WVGA display
that's abnormally shocking to find – for a prepaid smartphone that is.
Even though it's constructed out of
plastic
, which obviously keeps its weight somewhat light, our mind is still believing that it's a high-end offering, but on paper, its hardware specs dictate it to be none other than a
mid-range
model. Nonetheless, this wide-looking handset definitely is able to stand above most other smartphones on Boost Mobile's lineup.
Under the hood, it's sporting a
1GHz single-core Qualcomm MSM8655 processor
with 512MB of RAM, which makes the relatively stock
Android 2.3 Gingerbread
experience very smooth in execution. Interestingly enough, we notice that it's packing the ID pack functionality that enables for some quick personalization – much like other Sprint ID enabled smartphones.
Meanwhile, some of its other features include a 5-megapixel camera with LED flash, 4GB of internal storage, 2GB microSD card, 3.5mm headset jack, 1,600 mAh battery, Bluetooth, aGPS, and Wi-Fi.
Honestly, it's not that bad forking over $200 for this bundle of joy – since you're not required to sign any lengthy contract. In addition, it really helps that it'll go nicely with Boost Mobile's $50 per month unlimited plan, which can go down in price if you happen to be a customer in good standing for some time.