ZTE Axon Mini hands-on
1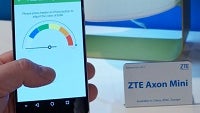 ZTE's announcements for CES 2016 were centered squarely on the affordable segment of smartphones where it has been flourishing quite well for the past few years. Following their press conference, they opened up a room with some displays of various products in the portfolio.
Among the many devices we have already seen or reviewed, we found the
ZTE Axon Mini
. This smaller sibling to the ZTE Axon and Axon Pro has been on sale for a few months in the Asia-Pacific region, and Europe, and there are no plans to release the device in the United States, so it was nice to pick one up and see how the hardware feels in the hand.
Design
Like its larger cousins, the ZTE Axon Mini feels like a premium handset. The metal body with faux leather trim alone the top and bottom of the back might strike some as a bit ostentatious, but it is applied with taste. The profile is not overly thin, or feel large. In fact, a device of this size and trim would probably complement ZTE's line-up in North America rather nicely.
Display
The 5.2-inch AMOLED display is full HD and does what AMOLED displays do so well, enable deep blacks and enticing color saturation. The main UI theme of the Axon Mini leverages that characteristic with aplomb. Any initial impressions using the display on the Axon Mini are sure to be positive.
Processor, memory, and performance
Like other "mini-me" clones off flagship handsets, the Axon Mini has a pared down processor, though you would be hard-pressed to really notice with common tasks. The octa-core Qualcomm Snapdragon 616 CPU has everything well in-hand. Executed commands are carried out smoothly and no apparent lag or stuttering. The ZTE Axon Mini has 3GB of RAM and 32GB of expandable storage.
Interface
Unlike the ZTE Axon Pro available in North America, the Axon Mini uses a single-layer interface, a common practice for Chinese-centric handsets. There is no app tray, which simplifies things a bit, and also brings to bear ZTE's "Force Touch" feature. In fact, the ZTE Axon Mini was the
first smartphone introduced
with a "3D-esque" pressure sensitive interface.
In addition to adding some context to native apps on board, the pressure sensitive feature can play a role in enabling complex passwords of PIN codes. If your PIN code is 1-2-3-4, force touch can enable pressure context as well, so a "hard-press" 1, followed-by a "light-press" 2 and 3, and a "hard press" 4. In case that is more than you want to manage, there is also a fingerprint sensor on the back.
Camera
Shedding the dual-camera set-up, the Axon Mini has a single, 13-megapixel main camera on the back, with an 8-megapixel front-facing camera. The standard feature set is on board, but the camera is not necessarily the hallmark that the larger flagships employ.
Summary
Given its
initial sale price in China
between $360 and $425 based on some versions, the ZTE Axon Mini packs plenty of value into what feels like a premium package. The metal build, smooth performance, and more compact form factor make for an easily likable smartphone. If you really want one, you will have to delve into the secondary market to have one sent from Asia, though you might forego LTE connectivity in the process.
At its press conference, ZTE went out of its way to talk about the online community of customers and enthusiasts it wants to build. Such feedback is what fostered a 64GB version of the Axon Pro, as well as updating the firmware to turn the camera button into a camera-app launching tool. If enough people chime in, maybe ZTE will offer a Mini version of its next flagship for the masses.
Recommended Stories