ZTE AD8000 Android MID hits the FCC
1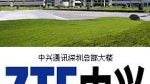 Listen up, Android tablet shoppers. We're going to simplify your search, if only a little, by telling you that the ZTE AD8000 is not what you've been looking for. The 7-inch mobile Internet device from ZTE looks like an afterthought, with a resistive 800x480 display, a 600MHz processor, and what looks like a trackball.
This isn't to say it doesn't have its place, we've just been spoiled by the Samsung Galaxy Tab and the rumor mill of future devices. Think of the AD8000 as one step above the
resistive-screen tablets
coming to national retailers, and one step below the Android devices from Archos.
On a high note, the device comes with 16GB of internal storage (plus a high-capacity SD slot), a 10-hour battery life, and 802.11b/g Wi-Fi connectivity. The battery life apparently drops down to 6 hours when you're surfing the web and using the media player. There's no word yet on pricing.
If you have the patience, keep your eyes out for ZTE's other device, the Light. Announced in early October, the 7-inch Light looks like it might be more on par with the
Galaxy Tab
.
source:
FCC
via
Engadget