"You're holding it wrong:" Samsung documentation instructs you about the right way to hold the Galaxy S III
39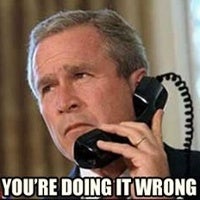 "You're holding it wrong."
Steve Jobs' laconic reply to users' concerns about dropped calls and poor coverage of the iPhone 4 infuriated many, but truth is antenna placement has always been a delicate topic for smartphone makers. Some tried to capitalize on the iPhone 4 vulnerability saying or implying their phone doesn't have the antenna issues. Truth is, though, that each phone has an antenna and if you grab tight the place around it, you get lower bars. When coverage is low you could have your call dropped.
Interestingly, a whole website named "Don't hold it wrong" brilliantly illustrates how many other phones besides the iPhone suffer from the same issue and often have it documented. The last one in that collection? The Samsung Galaxy S III.
Samsung's handset has a huge 4.8-inch screen and you might find it hard to hold it with just one hand, but for those with wider grip, you should know that the main antenna of the handset is placed on the bottom of the device, so that's where you should not hold tight. Samsung explains that touching or otherwise blocking the antenna could mean worse GPS performance, reduced audio quality and cause the phone to emit higher potentially dangerous radio frequency energy.
The full explanation follows below, take a look.