You might want to hide your iPhone if you spot Steve Ballmer nearby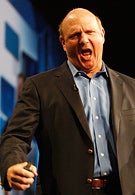 Steve Ballmer, CEO of Microsoft is famous for his funny peculiar and sometimes overwrought character when taking the floor and about to get in the spotlight. While taking the stage at a Microsoft held event last week and waving about his hands, clamoring, jumping about and generally making all the emotionally-charged things he tends to do at such occasions, he spotted a company employee taking pictures with his iPhone. Mr. Ballmer couldn´t resist the urge to grab the device then mock and crack jokes about the Apple´s wonder. He finished off by pretending to stamp it down. All of his actions were clearly visible on the screen the conference room was equipped with, so virtually anyone saw what he did.
While we do find the stunt he pulled really funny, it goes to show that Microsoft may have an
edge
on the iPhone. If anything, the device is becoming increasingly popular and of course, allows Apple to bite off a larger chunk of the cake that the cell phone market is.
source:
TechFlash
via
The Guardian