Yes kids, phones used to have wires and dials as this 1936 newsreel shows
23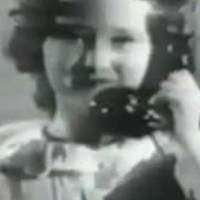 This is going to shock many of you who are young enough to have never made a phone call on anything other than a cellphone all of your life. In the 19th century, phones worked on the exchange system. Each phone was connected by wire to a central phone office in each area. This office was responsible for incoming and outgoing calls in a certain area, and employed a switchboard to help connect the calls. The caller would crank the phone and tell an operator at the other end of the line to "connect me with the General Store."
In 1936, Bell developed something new with a dial system that required rotary telephones. At the time, the fastest way for Bell to spread this information to Americans was to film a newsreel containing the information that the public needed to know. The film was played in theaters before the start of the feature.
Today, of course, Bell would have used emails, social media (like Twitter), and television commercials to get the word out. By the way, the rotary phones used electric pulses created by the actual dialing of the phone in order to read the numbers, and make the connection. That was replaced by touch-tone dialing in the 1970's.
It's hard to imagine that there was once a world without smartphones and tablets. When you think back to those days, it reminds you how much better our lives are today thanks to that handset in your pocket.
Now for a moment, imagine that it is 1936. You've read about this new rotary calling that will force you to dial phone numbers to make a call. It's the hottest new technology, and you are about to hear all about it just before Charlie Chaplin's
Modern Times
is about to start. Now go ahead and click on the video below!
source:
AT&T
,
LaughingSquid
via
Gizmodo