Yahoo! Weather for iPhone now sprinkled with Flickr photos, looks beautiful
18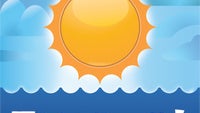 While there's no shortage of weather applications available for iOS, this one is likely to become one of the most visually attractive among them. We're talking about the brand new Yahoo! Weather app, which is bound to hit the Apple App Store before the day is out.
What makes the new piece of software so beautiful is the dose of visual content pulled from the vast Flickr database – photos are displayed in the app's background in accordance to your current location and weather conditions. Brilliant, isn't it? Moreover, the app takes the time of the day into account, so it shows night photos at night and daytime photos during the day. Flip the phone sideways and the background photo is displayed on the entire screen for your viewing pleasure.
Naturally, the new Yahoo! Weather app provides extensive weather information, including precipitation, wind speed, atmospheric pressure, hourly and 5-day forecasts. Multiple locations can be set as well, in case that's needed, or if you're feeling like checking out what a rainy Sunday morning looks like in Chicago through the eyes of the Flickr community.
Yahoo! Weather should become available to iPhone users any moment now, so keep an eye on the App Store for updates. Unfortunately, whether Android users will ever get to see the app in action isn't yet known.