Xiaomi sells 26.1 million smartphones in the first half of 2014, more than it expected to sell for the whole year
13

Xiaomi, the Chinese company that's often compared to Apple (but that functions more like Amazon) sold 26.1 million smartphones in the first half of 2014, surpassing its own projections. Chief executive Lei Jun said the company's revenue for the first half amounted to CNY33 billion ($5.3 billion), up 149% compared to the same period last year. Profit numbers, an interesting stat for a company like Xiaomi that sells its top smartphones at very low margins, remained a mystery.
Xiaomi shipped 11 million smartphones in the first quarter of 2014 alone, and that number only grew in the second quarter. The company had initial plans to ship over 40 million smartphones in the whole of 2014, but now it's revised its estimate and aims at 60 million. And it's worth noting that the sheer 26.1 million unit sales for the first half account for a whopping 271% increase on the year.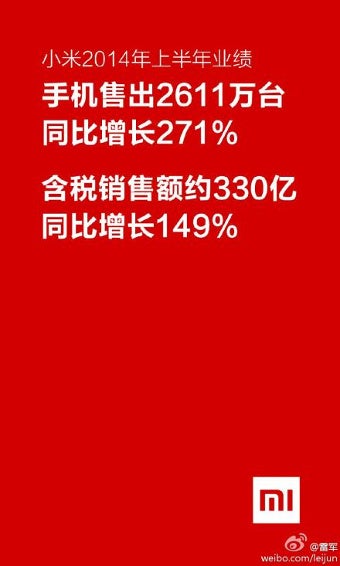 Moreover, Xiaomi is already building sky-high ambitions, saying that it expects to ship up to 100 million phones next year.
Xiaomi made a name for itself in 2010 with the release of the MIUI firmware, later to become the staple of its smartphones, much like TouchWiz is for Samsung. In the years to follow, Xiaomi unveiled top-shelf smartphones like the Mi-2 and Mi-3 at extremely affordable prices. Xiaomi's current flagship, the Mi-3, for instance, is sold for just around $330, nearly hafl the price of other flagships. While originality of Xiaomi designs is up for debate, the company has shown its taste for products that look good, challenging the perception of 'Chinese' phones being not so well made.
Xiaomi made it in the headlines in September 2013 when it attracted top Google manager Hugo Barra to aid the company to grow globally. It has already expanded out of its home market of China into Singapore and Malaysia, but it has bigger plans for the near future, as it starts paving the way to European markets.
source:
Xiaomi
via
The Next Web