Xiaomi looks to brand for international markets with Mi.com
9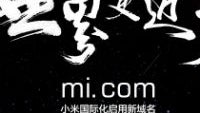 Ever since Xiaomi hired
Hugo Barra
away from Google's Android team, it was made clear that the company had designs on expanding its brand reach around the world. While the company has expanded a bit, it has taken its first real step in reaching a Western market by purchasing the Mi.com domain.
The simple fact of the matter is that Xiaomi is a tough name for many to remember. English-speakers especially tend to be put off by words that begin with an X, not to mention the fact that someone new to the brand would need to be taught how to pronounce the name (Hugo Barra explained it as sounding like "show me", but with the first part sounding like "shower"). So, Xiaomi has decided to simplify its URL branding to just Mi.com.
Impressively, Xiaomi dropped a record $3.6 million on the domain name. This makes it the most expensive domain purchased by a Chinese company, and the 17th most expensive URL of all time. The new domain will first be put to use in expanding the brand into India and Latin America, and eventually it will be used to sell products. Xiaomi has set records with its popular device pre-orders in China, and hopes to keep that buzz going as it continues to expand.