Xiaomi Redmi 4, Note 4 teased yet again ahead of Thursday launch
7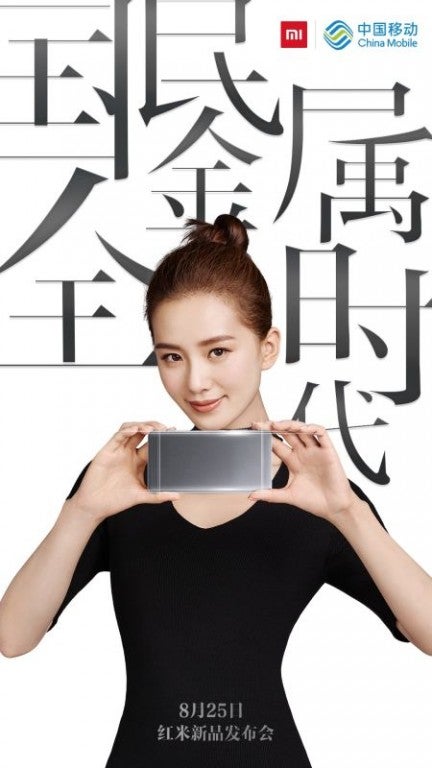 Xiaomi is expected to unveil the Redmi 4 and Redmi Note 4 later this week, and we'd be lying if we said we're not a tad excited. Last week, the retail box of the Redmi Note 4
was leaked
to accompany a rear-view shot of the device in all its glory, and yesterday, Xiaomi
dropped a teaser graphic
. Now, another preview has rolled out depicting a woman holding one of the incoming devices, though most of the design details have been scrubbed.
This new tidbit once again alludes to the unveiling on August 25, so we're now just hours from the official launch of these new handsets. As a refresher, we're expecting the Redmi Note 4 to pack a 5.5-inch 1080 x 1920 display and MediaTek's Helio X20 SoC. There'll supposedly be one edition with 2 GB of RAM and 16 GB storage, along with a higher-end model boasting 3 gigs of RAM 64 GB of storage real estate. The aforementioned retail box leak also points to a 5- and 13-megapixel camera combo on the front and back respectively, while a generous 4100 mAh battery should ensure at least a day's uninterrupted usage.
The Redmi 4, from what we gather, will also pack a respectable ensemble of features. With a 5-inch display and Qualcomm's Snapdragon 625 under the hood, it will probably follow the Redmi Note 4 in offering two variations. Once again, entry-level edition should get 2 GB of RAM and 16 GB storage, while the more substantial model could be furnished with an extra gigabyte of RAM and 64 GB for apps, games, music and other such digital fodder.
All that remains now is for Xiaomi to finally take the wraps off these two devices. As the teaser graphic shows, tomorrow's the date, and we'll have the details covered right here once it does make its grand entrance.
Are you excited for the Redmi 4 duo? Be sure to share your thoughts with us in the comments below!