Xiaomi's new 100W charging tech will fully charge your phone in just 17 minutes
17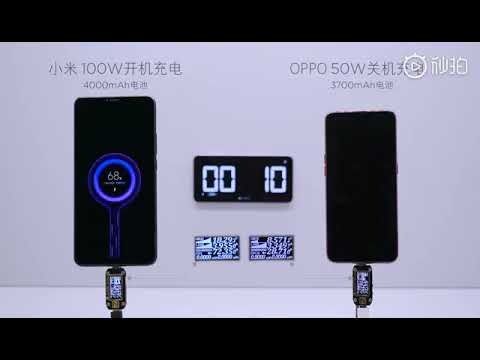 The Huawei Mate 20 Pro supports 40W SuperCharge. The Oppo Find X is compatible with 50W SuperVOOC. And soon, certain Xiaomi smartphones will support an incredible 100W fast charging technology.
Set to be
announced tomorrow
in China, the new charging tech will be marketed as "Super Charge Turbo" and will subsequently become the world's fastest flash charging technology. Specific details are yet to be announced, but Xiaomi's co-founder and President Lin Bin has shared a video of its new technology in action.

As shown in the 40-second clip, the new technology can charge a 4000mAh smartphone battery from 0% to 50% in as little as 7 minutes. Then, leaving the phone on charge for an extra 10 minutes will bring the charge up to 100%, meaning owners could fully charge their devices in just 17 minutes.

To further demonstrate the capabilities of Super Charge Turbo, Xiaomi directly compared it to Oppo's 50W SuperVOOC in the short video. The latter was charging a smaller 3700mAh battery but was only capable of producing a 65% charge in the 17 minutes it took Xiaomi to fully charge a 4000mAh cell.

When we'll see Xiaomi's new Super Charge Turbo tech inside its smartphones remains a bit of a mystery, but further details will probably be announced tomorrow. A potential candidate for support could be the Mi Mix 4 when it launches later this year. Alternatively, the company could wait for the Xiaomi Mi 10 next year before releasing the tech publicly.
Recommended Stories