Xfinity Mobile to offer subscribers the Samsung Galaxy Note 8 starting on September 15th
8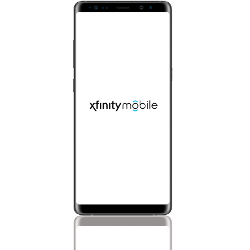 A relatively new player in the smartphone industry, Xfinity Mobile, announced today that it will be offering the
Samsung Galaxy Note 8
to its subscribers starting on September 15th. The hybrid MVNO combines 18 million Xfinity hotspots with Verizon's 4G LTE network. The idea is that subscribers get to use the hotspots for connectivity until they are out of range. At that point, Big Red's network kicks in.
Just last week, Xfinity Mobile said that it was
now available nationwide to Comcast's Xfinity internet subscribers
. Xfinity says that its service can save users 30%. Subscribers receive up to five lines for their household with free talk, text, and 100MB of shared data. There are two different plans for purchasing additional data. For $45 a month, a line can have unlimited data with users subject to having their data speeds throttled after consuming 20GB or more of data in a month. The other alternative is to pay $12 a month for each GB of shared data. Within a single account, each person can decide whether to go with unlimited or pay per GB.
Right now, Xfinity Mobile is offering the following handsets to subscribers via 24 monthly payments or with a one-time payment at the retail price:
And on September 15th, you will be able to add the Samsung Galaxy Note 8 to the list. Pricing and pre-order information will be announced at a later date. Meanwhile, you can sign up now for Xfinity Mobile either online (XfinityMobile.com) or at an Xfinity Store. Find the closest retail location to you by clicking on this link.
source: XfinityMobile