Would you give up using digital maps for a year for $700?
65
A redditor by the name of Ars3nic has received an interesting question from Google's Opinion Rewards today: "Would you prefer to keep access to digital maps (e.g. Google maps, Apple maps) or go without access to all digital maps for 1 year and get paid $700?"
A curious question indeed. Although $700 is not that much, considering that you'll be earning it over the course of one year, it's still easy money. We're sure that an opportunity like this would send many people's eyes frantically rolling, like the reels of a slot machine, into huge dollar signs *Cha-Ching*. Opinions on Reddit are, as can be expected, polarized. It's like a game of "would you rather" and people are questioning everything up to whether Google is behind the query or not.
Still, it's an interesting hypothetical situation and it all boils down to how dependent you are on digital maps. Although the wording is a bit vague, we're guessing that the query is implying that you would not be allowed to use any digital maps service whatsoever. In other words, you're saying "bye, bye" to both Apple Maps and Google Maps, as well as all alternatives.. So, would you give up using your favorite maps app for one year for an easy $700? You can always go back to using paper maps, right? Right? Tell us in the comments below.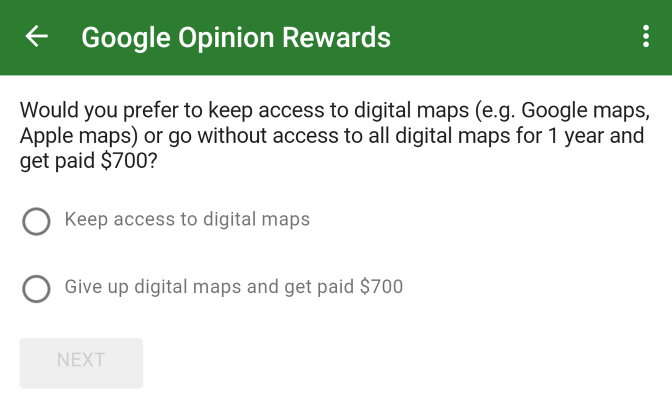 source:
Reddit
Recommended Stories