Would you get a new BlackBerry if it ran Android?
99+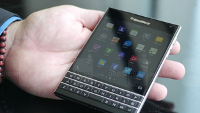 The
BB10
mobile OS can already run some Android apps, but BlackBerry is recently in the crosshairs of rumor mongers with the speculation that it is prepping a phone with Android as the stock operating system. The device is allegedly
codenamed Venice
internally, and, again eventually, is said to be a slider of sorts. The handset is said to come with options to be either an Android, or a BB10 device, according to the user's preferences.
For the most parts, emulating Android apps hasn't been a seamless experience on BB10, so having a full-fledged Android device might return the spotlight on BlackBerry again. Yesterday, a picture by a BlackBerry developer leaked out, allegedly
showing a BlackBerry Passport running an Android build
. The phone's model is denoted as
BlackBerry Passport
SQW-ANDS, with the last letters apparently indicating an Android version of the handset.
Where there's smoke, there could be fire as well, that is why we wanted to ask you whether you would be interested to get a new BlackBerry handset if it ran Android. After all,
the rumors are for flagship specs
like a QHD display, and a Snapdragon 808 chipset, which might be one more thing to tip the scale for a switch. Tell us in the poll below, and sound off in the comments.