Would you be surprised to hear that this company has sold the most power banks in the world?
13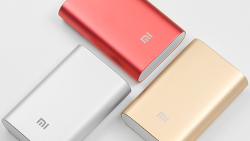 There are many different companies that produce accessories for smartphones. There are cases, accessories for wireless charging, car chargers, and of course, power banks. For those who use their phone all of the time, the power bank has become an invaluable tool. Thanks to a power bank, you can keep your phone running even when the cell inside your device is flat out empty.
So which company has sold the most power banks in the world? It's Xiaomi. The Chinese manufacturer added to its line yesterday with the introduction of the Mi PowerBank Pro. This unit is equipped with a 10,000mAh battery, a Type-C USB port and a soft cover that protects it. The power bank is priced at $35 USD.
Xiaomi has rung up 55 million power banks to date, which includes six different models ranging in capacity from 5,000mAh to 20,000mAh. While some older models have been discontinued, Xiaomi is selling certain power banks to U.S. customers through its Mi Global website. If you're interested, click on the sourcelink.
source:
Xiaomi
Recommended Stories