Would you be disappointed if Samsung or LG don't out phones with 4K displays in 2016? (poll results)
28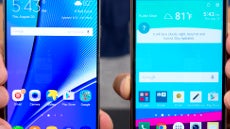 With both Samsung and LG being big on displays, it might have come off as a surprise to see Sony "beat" them to the punch with the
Xperia Z5 Premium
and its 4K screen. Especially so when you consider that LG was first to the mark with a
global
Quad HD phone (the
LG G3
), all the while there's still no Sony device rocking that exact resolution.
Typically, you'd think that the two South Korean companies are already working hard on leveling the playing field as far as their Japanese rival is concerned, but a recent (unverifiable) report claims that neither of the two is really interested in pushing 4K on phones any time soon. Whether it's because the disadvantages outweigh the advantages, their tech isn't quite up there yet, or simply because they don't see the point in as many pixels crammed in as small screens, if we assume the report is on target, you'd expect some fans to be disappointed.
So we asked you
.
Turns out, the vast majority of participants —nearly 84%— are perfectly content with Quad HD panels and wouldn't find it disappointing in the least if Samsung and LG go for a pass in 2016. As for the remaining ~16%, 4K displays make sense and Samsung and LG skipping over them is a mistake. If we try real hard, we probably can sympathize —after all, if you do enjoy virtual reality, a 4K display does make sense. For everything else, however? Overkill and not where we'd rather see companies focus their resources and efforts.
Proof: