World of Tanks Blitz hands-on
6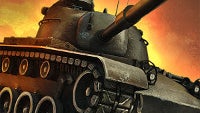 Tanks, tanks, and more tanks, that's the theme obviously in World of Tanks Blitz, a popular free-to-play MMO action game for mobile that first came to fruition late last summer – first on PC and console, with an eventual release on mobile. At PAX East 2015, we got the chance to check out the game first hand to see what it's all about, especially seeing that it's one of the few non-puzzle like games at the show.

One would think that the game is merely nothing but a port of its console and PC counterparts, but we're told that World of Tanks Blitz for mobile has been built from the ground up and specifically optimized for online gameplay. Essentially, you're put in control of one of 100 available tanks in the game, where you'll be instantly transported into the game playing through various missions.

Right from the get-go, we have to admit that the game is pretty intuitive and easy to operate – so there's not a whole lot of time spent on learning the mechanics. In fact, you can jump right in with minimal adjustment needed in feeling out the control schemes. Battles span spacious landscapes where you'll need to survive in these 7vs7 tank battles.

Considering that the game has a healthy collection of tanks to choose from, you'll need to contemplate what unit to select because each one has their own unique attributes. For example, light tanks rely mostly on their speed – while heavier cladded tanks are slow, but pack a punch with their arsenal. No doubt, the action is fast paced with this title, but the physics engine, too, is fine-tuned to deliver accuracy in how some of these tanks move and operate.

For those of you interested in World of Tanks Blitz, it's available for Android and iOS for free – in addition to the PC and console versions.