World of Goo to land on Android Monday as GooDroid
2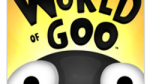 It's been a long wait, but it's almost over because developer 2D Boy has confirmed that World of Goo will be released into the Android Market on Monday, although for some reason the name is being changed to GooDroid.
The game should be what we've all come to expect: a physics-based puzzle game where you have to build connecting contraptions to move your Goo Balls up to the next level. Of course, the gameplay itself is only half of the fun (as is with most of the best games). The other half lives in the incredible style, sound and personality of the game. The story is very basic: you are helping the Goo Balls explore the world for the first time. But, it's easy to get sucked in.
GooDroid will be available on Monday in the Android Market, and is expected to be priced at $4.99.