Woman uses Google Glass in an effort to lure Whole Foods to the Bronx in New York
4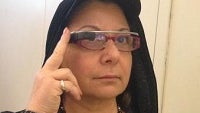 Everyone has their passion right? For some, their passion is sports, for others, crafts or maybe food, for many, music, for us, it is gadgets. Pick a subject.
For Ruth Papazian, who lives in the Bronx, one of the five boroughs of New York City, it is Whole Foods. For those that do not know, Whole Foods is a large chain of all natural supermarkets. It is a relatively well respected company with a loyal following of customers who favor organic foods.
Whole Foods has almost 30 stores in the New York, New Jersey, and Connecticut tri-state area. Seven are in Manhattan alone, but none in the Bronx. Ruth has been taking her Google Glass up and down Morris Park Avenue in the Bronx and taking pictures of what she hopes would be good locations for the supermarket chain to set up shop.
What does Glass have to do with setting up a supermarket in the Bronx? What development value does it have that Ruth was able to get her hands on a set of Glasswear? Well she won them with a tweet that said, "If I had glass I would be the only hipster in the Bronx [and] would blog about why the Bronx deserves respect and a Whole Foods on Morris Park Ave."
Ruth got her Glass in May and she went straight to work. Sadly, Whole Foods has indicated that it has no plans to expand to the Bronx. She claims that Morris Park Avenue is a veritable desert when it comes to shopping for food. Perhaps she would be better off pursuing another chain.
via:
BetaBeat