With its new data plans, AT&T shakes things up for the Sony PlayStation Vita's data plans as well
9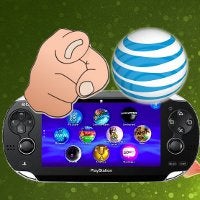 Now that AT&T's
new data plans are in full effect
, you'd think that announcements about other previously announced data plans would stay intact, but in fact, things are being shaken up.
Hardcore gamers are probably gearing up to check out the
upcoming Sony PlayStation Vita
, though, if you prefer a better connected option, you'll more than likely think about picking up the 3G-enabled version of the mobile game console. Relying on AT&T's network, we were
already
introduced to two specific data plan options, which were announced during Sony's CES press conference. Previously, it was mentioned that AT&T would offer customers either the $15/month option for 250MB or a $25/month plan for an even spacious 2GB of data.
Well, it seems that big blue is changing things up slightly and taking back that $25/per month option. Instead, it's being replaced by a
$30 per month
offering, which will provide customers with
3GB of data
. Needless to say, it's more data for a mere $5 extra, but it doesn't quite offer the same kind of value found with the $25/month option for 2GB of data. We can cry all about it, but it seems as though AT&T won't be going back on its word this time around.
Luckily, the cheaper $15/month option will still be available for those who are conscious about how they spend data. For those intent on gaming with the upcoming portable console, the PlayStation Vita is expected to hit AT&T starting on February 22nd for $299.
via
Mobileburn