With 90% already owning a smartphone in China, a slow down in shipments starts
26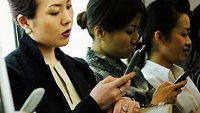 With 90% of the Chinese population already owning a smartphone, a slowdown in the country has started. The largest smartphone market in the world saw shipments decline in the first quarter for the first time in six years. The data, released by International Data Corp., showed 4.3% fewer smartphone shipments during the January through March period when compared to the prior year.
Despite the slowdown, a number of new models are being offered by Chinese manufacturers like Huawei, ZTE and Xiaomi. The manufacturers in the country have been focusing on top-shelf and entry-level models. This was pointed out by Charles Lin, chief financial officer of Pegatron Corp. who says that business is getting tough for those who focus on the middle of the Chinese smartphone market. Pegatron is a contract manufacturer that assembles handsets for Apple and others.
"The smartphone market in China is basically now just the very high end like Apple or the very low end. It's getting tough for those in the middle."-Charles Lin, CFO, Pegatron
Speaking of Apple, the company now sells more phones in China than in the U.S.. During the first quarter, the company became the top smartphone manufacturer in China, surpassing upstart domestic firm Xiaomi. Apple's chief rival Samsung dropped to fourth place in China during the opening three month period of the year. But Samsung has high hopes for its new flagship phones. A statement released by the company notes that the majority of China's 885 million smartphone users are employing mid and low-range devices. "
This leaves plenty of room for upgrades to high-end phones as China's market matures
," said the spokesman.
source:
WSJ