Wish your Bluetooth speaker had more bass? The Volcano is off to change that
17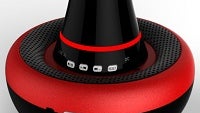 There are some pretty nice wireless speakers on the market today. The Beatbox Portable by Beats is a handy set. The Nokia JBL series is not too shabby either. Jawbone makes a great series of Jambox speakers from the new Mini Jambox to the nifty Big Jambox.
There is another commonality with some of these speakers, most of them cost north of $150 and some have price tags closer to $300. Granted, the higher priced speakers have better sound, but not everyone has three bills laying around (plus tax).
The larger speakers are not the most convenient to carry around with you too if you are on the move and want to bring a bunch of stuff to the beach, the pool, the picnic, et al. The smaller speakers are easier to carry around, but if you like a deep sounds to you music, chances are you will not really hear it or feel it.
The designers behind the Volcano claim to have found the solution to bring on the bass. "The bass is finally here." The Volcano plans to be the next wireless speaker that brings the music with all the rich sound you want in a small, easily portable, Bluetooth speaker.
If you get on board through the Indiegogo campaign, you will be able to get The Volcano for only $79, with perks progressing from there. The campaign has an easily reachable goal of $50,000. If you have been wanting a decent sounding portable speaker, but have not been too thrilled with spending a lot of money, the Volcano might be just what you are looking for.
source:
The Volcano
(Indiegogo)