Wish your Android device had microSD support? Check out and support the Mini microSD reader
27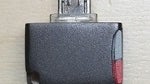 Whenever we review, discuss or report on a device that does not have expandable memory, there is always a noticeable mood of disappointment among our readers. Even if a device has 32GB or more of native storage there are a few folks that openly express the desire to be able to augment that storage.
We tend to agree in general, although devices (like the iPhone, HTC One, or Galaxy S4) that have an option for 64GB of storage, or arguably 32GB, can usually assuage media storage fears.
If you are a Nexus, Droid DNA, or user of smaller capacity iterations of the popular Samsung or Motorola Android devices, then the notion of managing 16GB or only 8GB of space has definitely crossed your mind, especially if the device does not support microSD storage expansion and especially if you have a couple thousand songs or few dozen videos you like to carry around. Yes, the cloud is there to help you (and yes, Google really wants you to rely on Google Drive and other Google cloud servies), but if you are on a measured data plan or connected to a congested network, you are not going to be feeling too much love from the cloud.
If only your device supported microSD. Well, two brothers in Northern California have a solution, a microSD reader that you can plug into the micro USB port on your Android device and from there you can copy files between your device and SD card. The Mini microSD Reader will support microSD cards up to the SDXC standard (in theory up to 2TB, but that has not been tested yet).
The reader's functions are as straight forward as they come and will also work on devices that already support microSD storage. The Mini microSD Reader will work on Samsung Galaxy S2, S3, Note, Note II, devices, the Motorola RAZR M, HD and MAXX HD, HTC One X+, Evo 4G LTE, Droid DNA, Galaxy Nexus, Nexus 7 and Nexus 10, Nook and Kindle Fire as well as tablets that are using RockChip or AllWinner chips.
There are a few caveats, some devices may require a third party app to utilize the Mini microSD Reader and if you want to use it on a Kindle Fire, or Nook you would have to root the device. Unfortunately, Nexus 4 users are out of luck as the device will not support USB OTG (On-the-Go). It is not known if the HTC One will work with this, but they will test it as soon as they can.
A $12 pledge to their kickstarter campaign gets you a reader with standard worldwide shipping included. If you have a couple thousand dollars laying around, there are two spots to pledge $2,048 which gets you lunch with the developers and a reservation to tour the manufacturing facility in China (expenses not included).
Check out the photos and video and click the source link to get yours, delivery is expected in July.
Thanks for the tip!
source:
Andy & Rich
(Kickstarter)