Wireless charging to be a 'standard feature in the next iPhone', according to Powermat CEO
52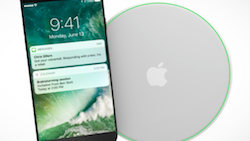 Back in February, we reported that
Apple joined the Wireless Power Consortium
– a conglomerate of companies, who make use of Qi technology for their wireless charging concepts. Market analysts, on the other hand, also foresee
cable-free charging as a feature in some of Apple's upcoming devices
. Of course, the center of the discussion is the iPhone 8, which may or may not feature wireless charging, and speculation has been quite hot. Powermat CEO Elad Dubzinski, while commenting on a separate matter, recently said that wireless charging is to become a 'standard feature' in the next iPhone, citing a 'recent announcement by Apple'.
However, we have no record of an official statement from Apple and this makes it very difficult to trust Dubzinki's comment. Powermat is a pioneer in the wireless charging tech field and has an expansive public charging scheme, aiming to bring the tech to more people. Nonetheless, we have not had any rumors of ties between Powermat and Apple, meaning that Dubzinski is unlikely to know great detail about next iPhone's production line. However, we did hear reports earlier this year that Apple had indeed contracted wireless charging components manufacturer
Lite-On
for the next iPhone, possibly indicating the the company is serious about making use of the tech.
Powermat has picked up on the confusion, caused by Dubzinski's comment, and issued a rather 'any-case-scenario' statement, saying that its products would support 'whatever wireless charging protocol' Cupertino decides to deploy. Hopefully, customers will get a smoothly working final product, well-polished to work fire- and flaw-free. The company has no bitter battery-related memories, unlike competitor Samsung, which is now seeing some customer reports of charging issues with the Galaxy S8 phones. Like the Note 7 affair last year wasn't enough. In any case, we are unlikely to have a definitive answer as to how iPhone 8 will charge, well until the last months of 2017.