Apple joins the Wireless Power Consortium
54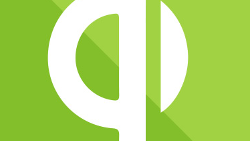 Reliable Apple analyst Ming-Chi Kuo has basically said that
wireless charging for the Apple iPhone 8 is a sure thing
. But let's say that for some reason you don't believe that Ming is right. You still would be hard pressed not to expect the feature to come to at least the anniversary edition of the iPhone later this year. That is because Apple has joined the Wireless Power Consortium.
This is a group that concerns itself with standards for wireless charging based on the Qi technology. The consortium makes sure that Qi branded technology can work between various products made by different manufacturers. Apple joined the group last week. Qi wireless chargers allow users to place their device (sans wires) on a pad that is plugged into an outlet. The Apple Watch uses a form of the Qi wireless charging technology that Apple reportedly declined to have tested to see if it would work with other Qi chargers.
Considering that the Apple Watch has been out for nearly two years, we feel confident saying that Apple's decision to join the WPC is due to the wireless charging feature expected on the
iPhone 8
. We should mention a couple of points that will make iOS fans look as though they just sucked on a lemon. First, the wireless charging feature, at least for this year, is expected to be found on the anniversary edition only. Secondly, as we told you over the weekend, it would seem that
wireless charging will be an optional feature on the iPhone 8
. That means that if you want the convenience of charging your $1,000 handset without those annoying cables, it is going to cost you some of your hard earned bread for the privilege.
"The companies with the largest market share in mobile phones are now members of the WPC and discussing the standardization of wireless charging. As we have seen in the past year, Qi has become the de facto standard for wireless power, and this year we expect to see even more momentum by the entire ecosystem."-WPC statement
Perhaps the most important thing for Apple looking ahead is that joining the Wireless Power Consortium gives it a voice in the group's future deliberations.
"Apple is an active member of many standards development organizations, as both a leader and contributor. Apple is joining the Wireless Power Consortium to be able to participate and contribute ideas to the open, collaborative development of future wireless charging standards. We look forward to working together with the WPC and its members."-Apple statement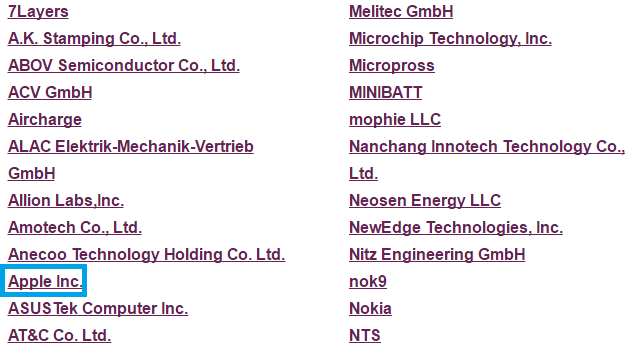 Apple's name now appears on the list of WPC members
source:
WPC
via
BusinessInsider