Wirefly is selling the HTC HD7 for $74.99 with a contract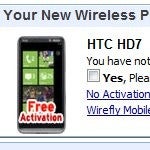 The $199.99 on-contract price of the HTC HD7 is considered fitting since it falls in line with so many other high-end handsets, but when a brand new phone is substantially less, it undoubtedly will stand out more than anything.
Wirefly is known for some of their fantastic deals, but an upcoming one with the HTC HD7 just might be enough to sway you into siding with Windows Phone 7. Starting tomorrow, it looks like Wirefly will be selling the larger than life smartphone for $99.99 with a contract. But there is even more saving thanks to its accompanying free activation ad shipping with the purchase of the handset. Furthermore, using the coupon code of "WIREFLYHD79" will shave off an additional $25 savings that places the handset at the more than acceptable price of $74.99.
At that price point, you really can't deny possibly considering getting the handset.
via
WPCentral