Windows Store passed 40,000 apps today, growth moderating
22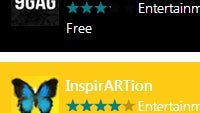 Microsoft predicted
there will be a 100, 000 apps in the Windows Store by February
, in the first three months after the launch of Windows 8/RT. It doesn't seem to be materializing this way, but the initial app growth has been impressive nonetheless.
The app growth slowdown seems to be the culprit here, as initially more than 400 apps were added daily, whereas now we are at about 150 according to MetroStore Scanner.
Thus, today is the day when the Windows Store hit the 40, 000 apps mark, with 158 apps above that threshold, to be precise, which is a bit short of what Microsoft was expecting, but still an impressive growth nonetheless, compared to all other application stores in the three months after their initial launch.
With all the gear carrying Windows 8/RT that's been announced at CES and about to get into user's hands soon, developers might step up their efforts, and we see the 100, 000 mark crossed by the fall.