Windows RT tablets will be "a very good consumer box", priced $200-$300 less than those with Intel inside
16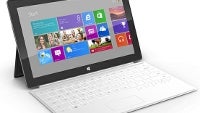 David Schmoock, Senior VP of Lenovo's North American division, mentioned in an interview recently that Windows RT tablets will be $200-$300 cheaper than those with Intel processors inside that can run legacy Windows programs.
He added that Windows 8 tablets will be in the $600-$800 price range, so we can easily deduce the price of an Win RT slate to be in the realm of $400-$500, which is comparable with current ARM-based slates, as Microsoft promised when announcing the two Surface tablets of its own, yet places the RT gear squarely against the iPad.
Lenovo's VP, however, also said that "
RT will play in consumer and retail at very aggressive price points. It will do well but it's going to be more of a consumer price point play to begin with.. [it will] be a

very good consumer box
".
All we know is that cheap RT tablets are certainly going to heat up the battle between Microsoft, Google and Apple for the "post-PC" era, as Apple loves to call it, and Redmond has proven that it might come late to a market, but then catches up quickly to become one of the leading players thanks to the Windows and Office franchises, as well as its engineering, partnership and distribution might. Well, it has to claw back from
the iPad's record 70% market share
, and that lofty
30% tablet share goal
it has set for itself will require lowball prices galore, so in the end we all win.
Recommended Stories