Windows Phone 8.1 installs closing in on 40%
8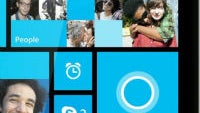 Android 4.4 is under 25% after almost one year; iOS 8 is over 50% after just one week; and, now we're getting some unofficial stats about Windows Phone 8.1, which has been rolling out much more slowly than previous WP updates. The latest info says that Windows Phone 8.1 is on just under 40% of devices after less than two months since the start of the rollout.
Oddly, the Windows Phone 8.1 update seems to be losing steam. The rollout essentially began at the beginning of August, and had reached 24.4% of devices in the first month. In the month since, it has only been able to get up to 39.1%. Even so, in October WP 8.1 is expected to surpass Windows Phone 8.0, which is currently down to 45.7% of the market. Impressively (or sadly), Windows Phone 7 is still holding strong at 15.2%. This is all according to data gathered by AdDuplex.
The other part of the data is what amounts to the same-as-always for Windows Phone, which is that Nokia devices are absolutely dominating the ecosystem, and to be accurate, it is really the low-end Nokias. The Nokia 520 is by far the most popular phone around the world at 30.6% of devices, while here in the U.S., the Nokia 520 and 521 combine to make up 46.2% of Windows Phones in the wild.