Windows Phone 8.1 SDK updated, shows low-profile keyboard
15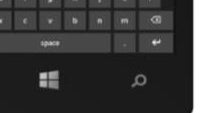 The Windows Phone on-screen keyboard is one of the best in the business, no doubt about that. It does take up a considerable amount of screen real estate though, even on the big screened
Lumia 1520
.
Microsoft sent out an update to the SDK for
Windows Phone 8.1
and it reveals a new set of features as it relates to handling text input. Among those goodies is a new low-profile keyboard.
The new layout appears to take about half the normal space of the standard keyboard. To achieve this, obviously smaller keys are used, but the word-suggestion bar disappears with it and the emoticon key is sacrificed as well. Also gone is the action bar with which one would execute a command to send or save a given message or document.
That last part leads us to wonder if this is a feature that will be available in every use case for Windows Phone 8.1 or if it would be usable in certain parts only. The slide of information outlining the text handling controls focuses on how developers can present information within their apps and how it can be formatted. Or, simply it could be just an image used in the presentation and the keyboard is not representative of anything at all.
Like with any SDK that is supposed to be kept unreleased and confidential, we can expect clarification and changes going forward. Assuming that a new keyboard becomes available (as an option anyway), what do you think?
sources:
Techrum.vn
via
WMPoweruser