Windows Phone 8 redesign to force Microsoft to move the system clock?
22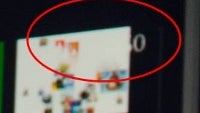 Windows Phone 8 will come with a brand new Start Screen allowing for smaller tiles icons and getting rid of that big black strip on the side, but this new design also gets rid of the clock on the side which you could easily see in earlier Windows Phone versions. Sure, you probably want to have a bigger clock tile on your start screen, but it's just a little inconsistency with the previous look.
Also, currently, it seems that the engineers over at Redmond haven't exactly figured out how to deal with the new tile arrangement, and the tile in the upper right corner eclipses the system clock. Only a part of it is actually visible right now.
We expect that Microsoft will either completely get rid of the clock or somehow find a way to fit it in there or some place else, it's just the current situation that underscores the fact that the platform is still in development.
We actually like the new Start Screen much more as that empty strip of black just seemed like a waste of space, but we're sure some folks will miss the very visual cue it gave to accessing the menus, so keeping user awareness about the existence of those settings is another design challenge for Microsoft.