Arching on-screen keyboard might debut in Windows Phone 8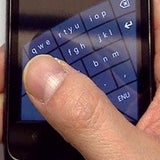 Now, here's a possible Windows Phone 8 feature that was not mentioned
during the platform's announcement
– a redesigned on-screen keyboard optimized for single-handed use. Too unlikely, you say? Well, not really. Back in June of 2011, we had a leak indicating that a
"next gen soft keyboard"
made for one handed input
was being planned for Apollo
. This photo, which was allegedly obtained from a leaked Microsoft Research presentation, shows what the said virtual keyboard might look like, if it happens to be real.
Yet who knows, if done right, this arching keyboard might actually work just fine once you get the hang of it. And if you don't need it, switching back to the old one should not be too hard. What do you, guys and girls, think? Do you think such a keyboard will be comfortable to use? Let us know by dropping a comment.