Windows Phone 8 may get universal search
12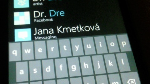 One of the knocks we had against Windows Phone in our
recent review of its stock apps
was that there was no universal search option for the system. You could search contacts in the People app, or apps in your programs list, etc., but each search option was separate and only found in the section you were searching. That issue may become a thing of the past with Windows Phone 8.
According to the rumors (and the screenshot), it seems that WP8 will indeed feature universal search, which should pull results from your contacts, apps, games, messaging, music, and possibly more. If you've seen any previews of Windows 8, there is a similar feature, although much more robust, where when you put in a search term, it gives a list of sources to search including the web, contacts, the Marketplace and various apps on your system. It's unclear if WP8 will be that robust as to allow searching in apps from the universal search, but it is possible.
Universal search in WP8 is said to be available directly from the Start screen, but no mention on if it would be part of the Bing search. If WP8 functions like WP7, the physical search button on a device launches the Bing search app, and any other kinds of search need to be initiated via software buttons found around the system. It would be nice if these options were pulled together like they were in Android 2.x, when handsets had physical search buttons.