Windows Phone 7 Series as a Hub-based operating system
4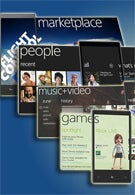 Alright, so Microsoft's Steve Ballmer and Joe Belfiore introduced Microsoft's new operating system to us
at MWC
, and while we were almost fascinated by what we saw during the presentation, a lot of things remained unclear about
Windows Phone 7 Series
. Now, we won't bother discussing questions like "Will Windows Mobile 6.x.x apps run on 7 Series?" (although we can answer that one right now – no, they won't), or "Does it support multitasking?" (well, um… you will be able to listen to music in the background, if that's what you're asking… oh, you weren't?). Instead, what we're going to do is shed some light on one of the most important and yet confusing aspects of Windows Phone 7 Series. We are going to talk about the Hubs.
As it seems, not too many people, interested in the mobile industry, are familiar with what the hubs really are, although it is known that they are of vital importance for understanding the philosophy and functionality of the new OS. And as far as we can tell, various online sources, which try to describe their essence, are just kind of retelling Microsoft's marketing-centric descriptions, which are fine actually, but fail to present things in a truly simple and easy to understand way. So, that's why we'll spend some time now, trying to make it clear what hubs are, how they work, and why Microsoft went for that new approach.
We'll use Belfiore's method of explaining here – think of hubs as…
super apps
. They are basically apps with great functionality, around which the whole user experience happens. So instead of having separate apps for everything, you now have six major apps that provide you with access to various features that depend on each hub's purpose. Hubs have a landscape-oriented interface that can be viewed in "portions", so you have to scroll sideways in order to reach different functionality. It's something similar to Android's home screen for example, where you have that single background image and you swipe left and right to see different parts of it. There are six hubs: People, Pictures, Music + Video, Games, Office and Marketplace. Let's take a look at them one by one and explain what you can do from inside of them.
People:

This hub handles your contacts. It is capable of not only showing your phone contacts, but also integrating them with ones from online services like Facebook, Twitter and Gmail. Now here's the first example of how hubs differ from ordinary apps: in the People hub, you are not only seeing your contacts list (as in a traditional phonebook application), but you can also view your contacts' latest social statuses and their images (again, that can be taken from online sources). It doesn't end there, as you are also able to update your status (this can be done simultaneously for all of your social profiles). It isn't clear yet if Microsoft is to integrate the messaging system as well with this hub, or will leave it as a separate app.
Pictures:

This is your picture gallery. It isn't your typical gallery app though, as it is showing you images from the phone, PC and web. All non-local information is gathered over the air and integrated with your local files, so as to deliver a smooth and seamless experience. At least, that's the idea. You can do some more things from within the Pictures hub. It features social functions, letting you see your contacts' latest uploaded photos, as well as share and comment on photos (through social services). So that basically is another multifunctional app.
Music + Video:

This is your place for everything related to music and video. Content is again gathered from the phone's storage space, your PC and online services into one place. From here you can also use the FM radio or go into the marketplace and purchase some new stuff. See how many apps they've gotten in one singe place? That's the idea of the hub.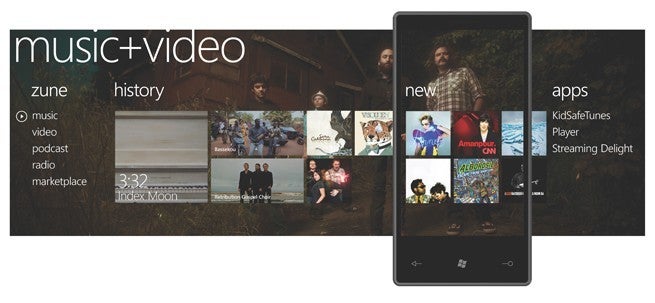 Games:

Well, the Games hub is pretty much a mystery for now. We know it will let your access your Xbox LIVE profile or view other profiles and avatars, but what about the games? As more details on this one are expected to be revealed at Microsoft's MIX 10 event this year (March 15-17), we hope they will showcase some nice 3D stuff there with great options for third-party developers, and not a new "groundbreaking" series of Brain Games…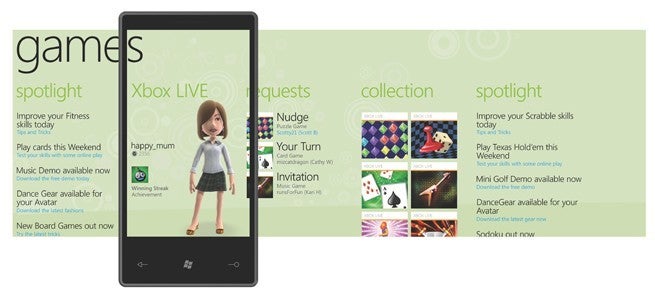 Office:

The interface may have gotten way more intuitive and eye-catchy, but one must not forget what the Windows phone is all about. In addition to Outlook Mobile, you also have the Office hub, which houses business-related functionality. Of course, here the user will find apps like Word and Excel, as well as OneNote and SharePoint Workspace. We still can't imagine how much functionality Microsoft can get at one place, while sticking to the finger-friendly interface of Windows Phone 7 Series. Hope they will get this one just right though.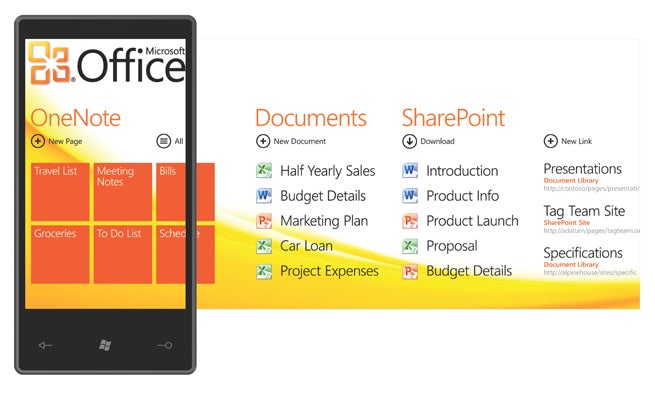 Marketplace:

This one is pretty straightforward. From here you'll be able to manage your app purchases (including games, of course). Microsoft has not shown much of this hub as of now, but we can be sure apps will be divided into categories and presented in a nice graphical way that suits the new interface. The most important thing here will be the quality and quantity of the apps, or the "ecosystem" if you will, so we hope MIX 10 will reveal if this Marketplace will have what it takes to become the Windows Phone-style App Store. We certainly hope it will.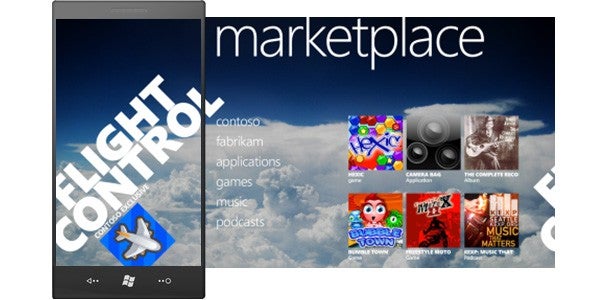 So that was our just-a-bit-too-detailed overview of the hubs in
Windows Phone 7 Series
. And we hope you got a good idea now of what these hubs are – multifunctional applications that house a lot of features, so that it won't be necessary for the user to go in and out of numerous separate apps, but rather get immersed in a rich and seamless experience. So in a way these hubs present a rather fresh approach to operating system interfaces. We believe Microsoft has chosen the right way by junking its old system and going for a completely new experience that does not even look like anything else on the market. And that's not something we see every day in our beloved mobile universe.
Check our
MWC Live Coverage
for more information a thorough video demonstration of Windows Phone 7 Series!