Windows 8 tablet prices appear in European circular
11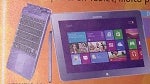 Italian blog WindowsBlogItalia showed off some particular items of a mailed advertisement from retailer Expert. Eleven notebooks, ultrabooks and tablets are on display, ranging from €399 for an ASUS 15-inch notebook to €899 for the Samsung ATIV smart PC/tablet combo and €999 for Samsung's 13-inch ultrabook.
For the tablet offerings in particular, we see the Asus TF600T, a Wi-Fi only tablet which has a 10.1-inch IPS display with 1280x800 resolution. Under the hood is an Nvidia Tegra 3 processor, NFC, Wi-Fi and Bluetooth 4.0. It will weigh just over a pound (520 grams), and its dimensions are 262 x 171 x 8.3mm (10.3 x 6.73 x 0.32 inches). The price for the 600T starts at €599 ($776, £483). The Wi-Fi and 3G variant of this tablet is also shown with the exact same specifications and a €699 ($906, £563) price tag.
The Samsung ATIV smart PC has the goods with 11.6-inch HD LED display, Wi-Fi, 3G, NFC, 2GB of RAM and 64GB of storage. Also on board is Samsungs S-Pen and an Intel Atom 1.5GHz processor. The ATIV smart PC weighs in at 1.6 pounds (747 grams) and is listed for €899 ($1,165, £725).
Those prices are probably not much of a surprise to many, but there was a lot of hope that pricing for some of these new Windows 8 tablets might start at a lower price point. If these prices are any guide to what they may cost in the US, we might see the Samsung ATIV smart PC start in the neighborhood of $999-1,199 and go up from there for the ATIV smart PC Pro which has more horsepower under the hood.
Acer has a couple items listed as well, with their S3 ultrabook packing an Intel i3 1.8GHz processor, USB 3.0, HDMI and Bluetooth 4.0 for a fairly reasonable €699.
Are these prices in line with what you were expecting for Windows 8 tablets and other portable computing devices?
sources:
WindowsBlogItalia
via
Microsoft News
Recommended Stories