Windows 8 revealed as the ubiquitous touchscreen OS, Intel strikes back with Android compatibility
37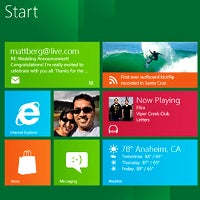 Microsoft's Steven Sinofsky took the stage at the BUILD conference today and delivered the long expected preview of Windows 8, the most ambitious project of the company to date. Not much was said that we didn't know already from here and there, but the preview will be ready for download later today for those who want to start considering the newest edition of the world's most widespread operating system.
All attendees at BUILD received the
11" tablet computer from Samsung with Intel Core i5 processor
that was making the rounds lately, and a Windows Store was announced that will act as a hub for each and every program ever made for Windows, regardless of the version. The
Metro-style UI we've seen before
, and Live Tiles are the center of its experience. Microsoft stressed numerous times that Windows 8 is above all
touch-centric
, barely mentioning the fact that it works with keyboard and mouse as well. Programs built for previous versions like Windows 7 will launch as separate apps with the current interface, and only then will all the related code load.
This makes Windows 8 with even lower memory and resource footprint than Win 7 - Steven Sinofsky demoed it on a basic Atom processor with 1GB of RAM. Actually, the hardware on which all this goodness will run is the most interesting part - the demos ranged from 10" tablets with ARM-based chipsets, like the ones from NVIDIA, Qualcomm or Texas Instruments, to large all-in-ones with 27" screens. Of course, only if you run x86 processor, you will be able to run Windows 7 or Windows XP programs, but Microsoft demonstrated instant-on boot times,and said that the Win 8 installation will only take a few minutes, regardless of the hardware, then
run all day on a single charge
.
This must have annoyed Intel to no end, as it used the time of the BUILD conference keynote to issue its own press release that it is entering a
partnership with Google to develop its next mobile chipsets with Android in mind,
which in its turn will be optimized for Intel's platform, said Andy Rubin. Thus CEO Paul Otellini aims to hedge his bets because Microsoft embracing ARM chipset designs might mean a lot of unrealized profits.
Actually the biggest enemy of Apple's disruption and the "post-PC" world has never really been Android, but rather whatever Redmond's response was meant to be, and Windows 8 seems like a formidable obstacle to Apple's quest for dominance. We'll know more when the developers preview hits the servers later tonight, but for now it seems that Microsoft has delivered a compelling answer to all of its critics questions.