Windows 8 knock-off tablets being promoted at IFA 2012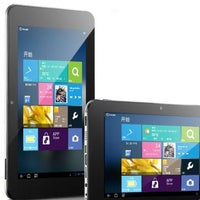 It was bound to happen sooner or later – Chinese manufacturers are already promoting their Windows 8 tablet knock-offs of dubious quality. And they are doing it in a pretty shameless manner, as you are about to see. While at IFA 2012 in Berlin, Arvid Bux took a photo of a poster advertising a "Windows PAD" of 13.3 inches, supposedly made by a company called Fview – a company that is virtually non-existent on the internet.
Interestingly, the image used in the poster is of a Microsoft Surface tablet, suggesting that this clone runs the latest version of Microsoft's operating system. However, it doesn't. This Windows PAD actually has Android 4.1 Jelly Bean installed. Also according to what is stated in the image, the device is powered by a dual-core 1.6GHz processor, and its IPS LCD screen has a resolution of 1280 by 800 pixels. Seems acceptable on the hardware side, yet the specs don't make the tablet any less of a knock-off.
Needless to say, you should stay away from these cheap knock-offs, no matter how affordable they seem when compared to genuine, brand name tablets. At the end of the day, you'll likely get what you pay for and end up owning a low-quality product. You've been warned.