Windows 10 Mobile ROM for the Xiaomi Mi 4 officially launches on December 3rd
33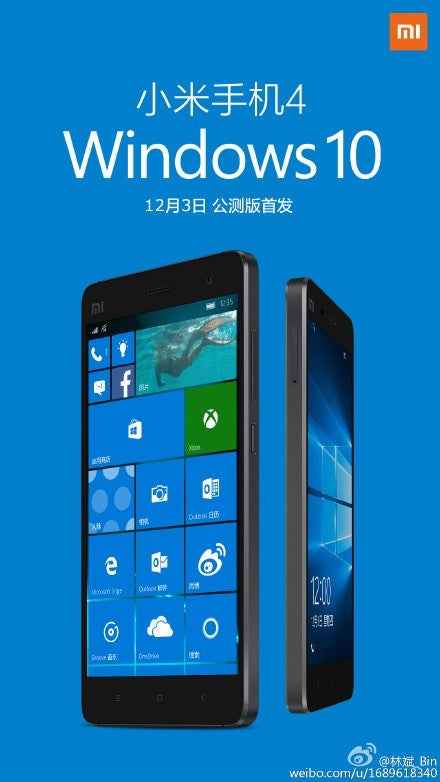 This past March, Microsoft made the mildly surprising announcement that it is working on a Windows 10 Mobile ROM for the Xiaomi Mi 4. Back in June, a preview version of the ROM started rolling out to beta testers and early adopters, but now it looks like Microsoft and Xiaomi are finally ready to launch the project to a wider audience.
Xiaomi Founder and President Lin Bin recently posted an image on Weibo - a microblogging network that benefits from widespread popularity in Asia - suggesting that the Windows 10 Mobile ROM for the Xiaomi Mi 4 will launch on December 3rd. As previously showcased, the preview version of
Windows 10 Mobile ran smoothly on the Xiaomi Mi 4
back in June. We're interested in learning more about this final version of the Windows 10 Mobile ROM, but we're also curious to learn how Microsoft plans to expand this project beyond the Xiaomi Mi 4.
As far as the hardware goes, the
Xiaomi Mi 4
, launched back in late 2013, remains a potent smartphone to this day. The handset features a 5-inch display with a resolution of 1080 by 1920 pixels, a Qualcomm Snapdragon 801 chipset paired with 3GB of RAM, 16 and 64GB internal storage options, as well as a 13MP primary camera.
In theory, the Windows 10 Mobile ROM for the Xiaomi Mi 4 should run buttery smooth on the device, but even if this turns out to be the case, it remains to be seen if the Windows 10 ROM will gain any serious adoption among those who own the smartphone.
What do you guys think? Will you be tempted to test out a Windows 10 ROM if Microsoft turns out to launch one for your current Android smartphone?