Wimp video database scores a neat and tidy Android app
0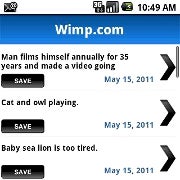 Still, on any random day you can find good stuff there that is more family-oriented, and doesn't cause a brain-melt like some of YouTube's viral videos.
Just as a random example, yesterday's picks include stuff like "Louis C.K. on Father's Day", "Japanese Maglev train runs at 500 km/h", "Clever cow", "Savant learns how to speak Icelandic in a week", "A box and Maru" and "Kindergartener performs "Doctor Who" monologue".
The indie movie database now has its own Android app, which is certainly flashier than the barebones site itself, it includes a feed for the most recently uploaded videos, and the data is organized by month, making fresh stuff easily discoverable.