Willingness to pay for apps isn't as wide a gap between Android and iOS anymore
32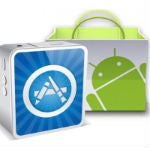 It has been a longstanding stereotype that Android users don't like to pay for apps, and will more often than not opt to download free apps, while iOS users have pockets stuffed with cash that they just love tossing out to needy developers. Of course, those stereotypes held a lot more weight about 2 or 3 years ago, back when Androids were the cheap alternative to the expensive iPhone. Now, there are iPhones and Androids at every price point, and some Androids that are even more expensive than iPhones.
And, if there's anything that can help to kill a blind stereotype, it's cold hard numbers. With that we bring you the results of a survey which was done by SwiftKey in partnership with the Pocket-lint and Mobile Nations websites. The survey covered 17,000 people and simply tried to find out how many apps people have actually paid for on their smartphones.
So, in one year, the number of users paying for a lot of apps on Android has nearly doubled, while users with no paid apps had been cut almost in half. While on iPhone, users with a lot of paid apps fell quite a bit, while users with no paid apps doubled.
It's interesting to see.
The only question we have is whether free apps with in-app purchases to unlock content were counted as paid or free apps. We've asked SwiftKey and are awaiting response.
SwiftKey responded to our question, and apparently it was left up to responders to make that distinction between a free app and one that became paid via in-app payments. The only questions asked were: "Approximately, how many free apps have you downloaded on your phone?" and "Approximately, how many paid apps have you bought on your phone?"