Will.i.am showcases his i.am+ smartwatch – voice calling, DJ-ing from the wrist, and more fake stuff
9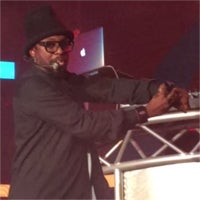 It was back in April, when we first heard about
will.i.am's intentions to launch a smartwatch
under his own brand – i.am+. The device got some air time, in which will.i.am said that the wearable has smartphone functionality, though didn't provide much proof to the words, except for a few dialtones. The other strength the device purportedly has is its music playback capabilities.
The watch was supposed to hit store shelves in July, though, apparently, there has been some kind of hiccup along the way, as it hasn't been released yet. Nevertheless, a press release on will.i.am's behalf claims that the entertainer will be stepping on-stage at the currently ongoing event Dreamforce 2014 in San Francisco, and announce the new wearable.
However, it seems will.i.am has been wasting no time and has been demoing the device at his live performances, as can be seen below. In the clip, recorded by an attendee at an event where the entertainer was on-stage, we can see will.i.am brag about the device, explaining that it doesn't need to be tethered to a phone to function. Then he gets a call (riiiight...), which he has to quickly hang-up on, since he's busy "DJ-ing", after which he apparently plays a song from his watch and further controls some typical DJ filters during the song's playback.
OK, Mr. will.i.am, we will give you the benefit of the doubt, but if all was well and functional with this device, we do believe that we should've seen a display by now. Also, the way voice calling has been presented make the whole thing look like nothing but pure shenanigans - not to say it's fake altogether, but the exaggerated dial tones and the fake call don't do it a lot of favors in the plausibility department. Lastly – on to the "DJ-ing" part – so you can stick a "Play" and "Next song" buttons on a device – that's hardly revolutionary. We kid, we kid... though we are still inclined to take the whole "real-time control of bandpass filters from my smartwatch" with a boulder of salt.
So, it would be interesting to see what will.i.am will introduce tomorrow, as the device currently looks more like smoke and mirrors, than a finished product. Check out the videos below, tell us what you make of it.