Will your cellphone make it through the cold of the winter?
5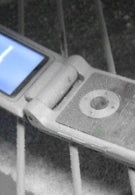 The days when a cellphone was a commodity item, easily replaced by a new one when broken, went out with the popularity of expensive smartphones that are more like mobile computers. Smartphone owners have to constantly be on guard for things that can damage a phone such as liquid, falls, drops and the weather. Could your handset handle freezing temperatures and still browse, text, take pictures and make calls? Popular Mechanics had the same thought and decided to put 6 handsets through a grueling "cold" test to see what would happen. The results should make cellphone users in cold climates breather a sigh of relief.
At -10 degrees F, the phones started experiencing battery problems. At -20 degrees F, some models started to shut off and those still alive started to show battery and LCD problems at -30 degrees F. From -40 degrees F to -55 degrees F, the remaining phones shut down. The good news is that once all 6 were warmed up to room temperature, all functionality returned to the handsets and there was no permanent damage. The last phone standing was subjected to one last test. Dipped into liquid nitrogen at -314.7 degrees F, this cellphone stopped working only due to battery problems and was revived at room temperature with no lasting damage. According to the magazine, it took 4 dips into the liquid nitrogen and a throw onto the floor before that model suffered irreversible damage. So for those who obsess over every scratch or drop of their cellphone, this test shows that these gadgets are made to withstand freezing cold weather that might bring down a human, but not leave lasting damage to his/her phone.
source:
Geek