Will the CDMA version of BlackBerry Bold hit Sprint shelves soon?
14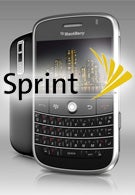 Poor Sprint. They look to the left and see AT&T selling the BlackBerry Bold. Turn to the right, and the BlackBerry Storm is flying out Verizon's door. But as though an after-holiday wish is coming true, rumors are rampant that the CDMA version of the Bold, named the Niagara, is going to be on sale by Sprint during this quarter. If the
document that was leaked
last month is correct, this handset will be the BlackBerry 9030, running on Sprints' EV-DO Rev. A network with HSPA for global roaming. The Niagara is expected to have a new browser and media player along with a high resolution screen (480x320), Wi-Fi, a 2MP camera and of course, a QWERTY keyboard. Contract price is expected to be in the range of $249-$299.
As we reported earlier, another variant of the Bold, the 9900 Pluto, is rumored to be heading to AT&T in this year's second quarter. The Pluto is expected to be a touchscreen version of the Bold with a physical QWERTY.
Whether it is a touchscreen Bold or a Storm with a slider and Wi-Fi, if all this talk comes to fruition, there could be a model to suit everyone in 2009. What do you want to see on a specific BlackBerry model?
via:
EngadgetMobile